The Rev. Susan de Puy Kershaw has been Rector of St. John's Episcopal Church since October 2004. She is a graduate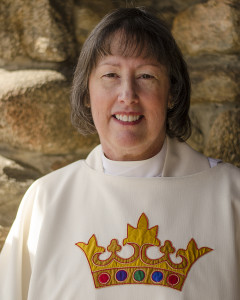 of Episcopal Divinity School (2002, Certificate in Advanced Anglican Studies), Princeton Theological Seminary (1985, Master of Theology), Palmer Theological Seminary (1980, Master of Divinity), and Temple University (1976, Bachelor of Arts). Before being ordained in the Episcopal Church in 2004, Susan served as an ordained American Baptist minister in parishes in NJ and VT, as well as senior minister of the Nelson Congregational Church, UCC in Nelson, NH. Her final ministry before being received into the Episcopal Church was as an Area Minister for the American Baptist Churches in Vermont and New Hampshire.
Susan finds serving the congregation of St John's to be a rich and meaningful ministry among creative and deeply faithful people who are committed to seeing and serving Christ in the world.